Our Mission
The mission of Star Makers Academy of Dance is to provide quality award winning instruction for dancers of all ages and ability levels. Star Makers offers curriculum that is meant to challenge and inspire dancers to reach their fullest potential. Star Makers aims to produce dancers who are well rounded and proficient in a variety of disciplines.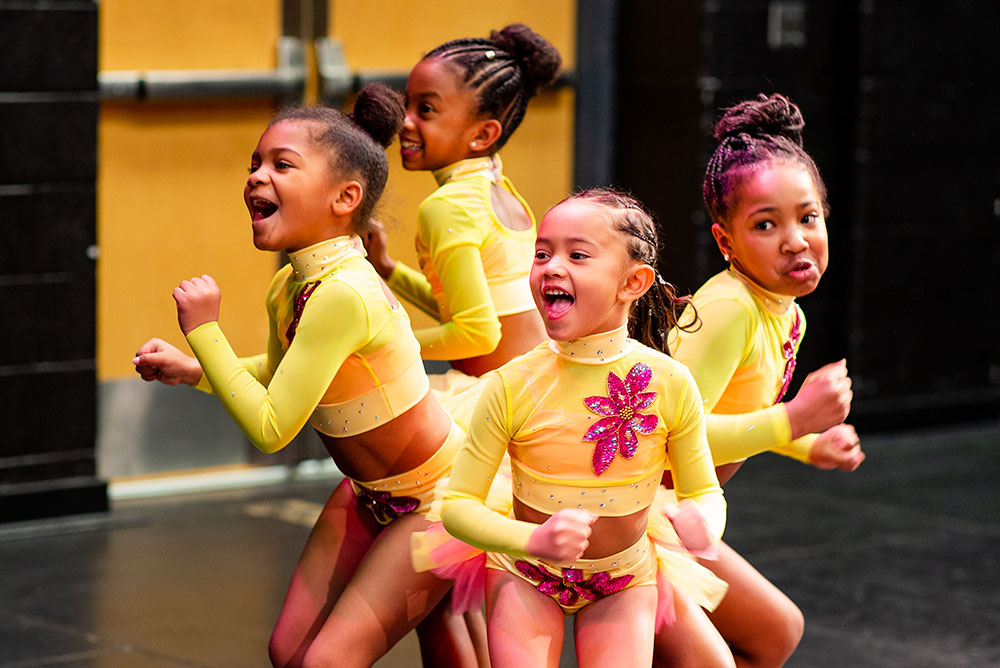 Star Makers Academy of Dance has offered quality dance instruction in the Washington D.C. area since 2005. Offering classes in Tap, Jazz, Ballet, Pointe, Lyrical, Hip Hop and Modern, Star Makers offers dancers of all ability levels opportunities to learn and grow. For dancers looking to take a variety of classes in a non competitive setting,
Star Makers offers a unique recreational program that allows dancers to excel at a variety of proficiencies. For dancers who are looking for intense training and additional performance opportunities, Star Makers offers a nationally award winning competitive dance program. Star Makers competitive dancers have been praised on both the regional and national level for their dynamic showmanship, stage presence, and overall excellence on stage. Star Makers offers a unique objectives based curriculum which provides dancers with a structured learning environment.
As a high school history teacher, Director Stephanie Ogunnaike has taken the same discipline and standards based approach used with in the academic setting and has applied it to the designing of the curriculum offered at Star Makers. All Star Makers teachers teach a specific objectives based curriculum for each dance class.
This provides clearly defined parameters to all class levels and helps identify skills of mastery necessary for helping dancers progress. In enrolling children into Star Makers, parents can rest assured that teachers are held accountable to maintaining an environment that is conducive to high standards of learning.
Awards and Accolades
Star Dance Alliance Power Rankings Winner 2017, 2018, 2019 (Highest Scoring Routines in Region 6 – MD, VA, NC)
Star Dance Alliance Studio Excellence Award Winner 2019
Entertainment Award of the Year – 2019
Star Dance Alliance Victory Cup Winner- 2017, 2018
Star Dance Alliance Premier Cup Winner- 2019
Prime Time Dance Presidential Cup Winner- 2019
Scholarships to the following Institutions and Programs:
AMDA, Broadway Dance Center, Joffrey Ballet NYC, Artist Simply Human Summer Intensive, Wild Dance Intensive, World Dance Pageant and Powerpak Summer Intensive
Prop Dads
Over the years our Prop Dads have become an instrumental part of the Star Makers family. Prop Dads have a variety of important responsibilities such as planning and building our competition dance props, packing and unpacking props on and off the truck and moving props on and off stage during dance competitions, dress rehearsals and recitals. The bond among the prop dads run far beyond the scope of the work they do around the studio. Our prop dads have become a strong brotherhood of proud fathers who support each other and their children. In addition to their work around the studio, the Prop Dads host our annual "Man in Your Life"- Father Daughter Dinner Dance, which is always a popular event.
Dance Moms
Our Dance Moms serve as part of the framework of what makes Star Makers a great place to dance and learn. Our dance moms help to contribute to our family friendly atmosphere by helping to support the initiatives and programs of the studio. Our dance moms support each other's children, our teachers, and our director. We are proud to have a special sisterhood of dance moms who serve as positive role models to their dancers.
Booster Club
The Team Star Makers Booster Club is a proud organization of Dance Parents who work to organize events and fundraisers to benefit the dancers of Star Makers Academy of Dance and the surrounding community. Some of the Booster clubs most popular initiatives have included the Star Makers Annual Trunk or Treat, The Team Star Makers Lock In, and countless community service activities.
Dance Honor Society
As a way to support our dancers scholastic endeavors, Star Makers Academy of Dance is proud to be a member of the National Honor Society of Dance Arts. Current Star Makers Members in grades 6-12 are able to seek induction into the chapter given they meet academic, dance, and community service requirements. As members, dancers are taught important leadership skills that they can apply to success in the academic and studio settings.
Big/Little Mentor Program
Each year we hold a special team building and mentorship program called Big Sister/Little Sister and Big Brother/Little Brother. For this program dancers are paired up with a mentor to help them with their studio goals for the year. Our "Bigs" and "Littles" serve as a vital supportive network for our dancers as it drives our mission of being a family friendly studio. It also ensures that our older dancers get a chance to know our younger dancers whom they may not get to see during the week in classes.